When providing conflict resolution services to nonprofit agencies my mission is to help them resolve conflicts in a manner that engenders connection and harmony while also enhancing the agency's effectiveness at accomplishing its mission.
When a conflict occurs in a nonprofit entity, the focus of the entity is distracted from its primary mission until the conflict is effectively healed. Time and energy of the executive director, board, staff and key volunteers are diverted from accomplishing the good of the nonprofit agency as they try to cope with the disruption.
As an outside conflict resolution expert, I am seen by all stakeholders as objective, neutral and supportive of each party. I will help resolve the conflict in a manner which allows an organization to return to its primary mission with the minimum of negative long-term consequences. Often I can help shift a simmering conflict into a golden opportunity for transformation and re-invigoration.
I approach each opportunity for conflict resolution with an open mind and open heart in order to facilitate the best possible outcome. Usually, the issue first presented camouflages deeper concerns that, if not expertly resolved, can inhibit the long term success of the agency.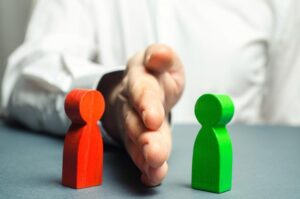 No matter how intense or mild the conflict appears at the onset, I approach each client through the belief that there is opportunity within every conflict. In a similar fashion, no matter between whom the initial conflict has arisen, I believe that the optimum long-term solution is best achieved by system-wide response, and that the opportunity exists for an outcome which benefits the entire agency.
As an outside professional with a sensitive approach and a compassionate eye, my role is to listen carefully to all the interested parties — CEO, board members, paid staff, volunteers and, when appropriate, clients — to identify the level of conflict and to clarify the concerns. Then working with the leadership of the nonprofit, I tailor a conflict-resolution process to the needs of the situation, being ever mindful to the bottom line and the costs of my services. I work as a neutral professional to bring about healing through mediation, caucusing, consulting, facilitated encounters and other dispute resolution tools.
I have worked with both large and small nonprofits and have a sliding scale fee policy when appropriate.
ALSO READ:Business to Business Mediation Helps Preserve Profitable Relationships
Almost every successful nonprofit agency goes through growing pains or downsizing that sometimes manifest as conflict. Successful nonprofit agencies can rarely rely on a purely hierarchical approach to resolve friction because of their funding structure and their reliance on volunteers. Poorly handled upsets can result in the departure of key people, hamper fundraising results, and diminish the contribution by volunteers. These outcomes can be avoided by early intervention through professionals skilled in conflict management.
It is especially important in these cases to retain a conflict manager who is sensitive to the needs of the nonprofit agency, and who is flexible in co-creating a resolution process tailored to the agency and the nature of the conflict. No matter how heated the conflict appears at the onset, I approach each case looking for the deeper unmet needs that generate the friction rather than try to superficially "paper over" the problem.
---
I practice mediation in all 50 states and have not only handled thousands of mediation cases over the past 20 years but have taught seminars and appeared on numerous panels sharing my expertise.
Feel free to call me or use my contact form to request a free consultation to find out if your situation can be positively affected through mediation.